Albert Zimmerman



August Albert Zimmermann

(born

at Zittau in Saxony

September 20, 1808 - died M

unich

, October 18, 1888) was a German painter.




He was the brother of painters M

ax

, Richard

and R

obert Zimmermann

, and served as Max's teacher.

His father was a city music director. Albert himself played music in his younger years.




He was primarily s

elf-taught

as a painter, but did study

at the Academies in Dresden and Munich. In 1857 he was appointed by the Austrian government to a professorship at the Milan Academy and from 1860 to 1871 he taught at the Academy in Vienna.

The main topics of his art were the Alps and Italy.

He painted mainly landscapes in a naturalistic style.

The term 'Biedermeier' refers to bourgeois life and art in Germanic Europe, an extensive area embracing such cities as Copenhagen, Berlin, Vienna and Prague, from 1815 (the Congress of Vienna) to the revolutions of 1848. Biedermeier painters were ideologically opposed to academic and religious painting and favoured such subject matter as portraits, landscapes and genre scenes, with still-lifes, especially of flowers. They share a similar technique in the use of separate, clear tones and a high degree of finish, reminiscent of Neo-Classicism while they tend to convey a greater sentimentality. By the 1880s, the influence of this artistic movement was on the wane and was even used pejoratively to characterize the reactionary bourgeois elements in society, which remained quite indifferent to social problems and cultivated a sense of order and sobriety, especially in the private sphere and the domestic realm.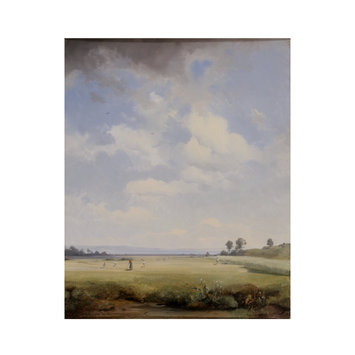 Oil painting, 'Haymaking', Albert Zimmermann, 1838
Physical description: A painting with figures haymaking in an extensive landscape, with a towering sky above.
Zimmermann had a brilliant technique and excelled at light effects and spontaneous effects of nature.
In this early work, painted at Munich in 1838, Zimmermann set the canvas on one end in order to paint a towering sky-scape, reducing the land to a narrow strip at the bottom of the composition.
Waagen described 1533-1869 thus 'ALBERT ZIMMERMANN (a native of Dresden, but resident in Munich). - An extensive plain with alps in the distance. The true freshness of morning, and the delicate aerial perspective, render this a particularly attractive specimen of the master.'
(
Zittau 1808-1888 Munich) Tyrolian Mountain Landscape, signed Albert Zimmermann (with three stars), oil on panel, 40 x 58 cm, framed, (GS)
Albert Zimmermann was one of the most important German landscape painters of the 19th century. Friedrich Pecht described him as a "true Protean" and wrote of him that "Today Zimmerman created highly stylised landscapes in the style of Koch, tomorrow in the style of Rottmann, and the day after in the naturalist style of Calame....Amongst his formidably numerous, naturalistic creations, it is often the small paintings which are true pearls, delicate and with a fine sense of nature...".